Teen Driving Tips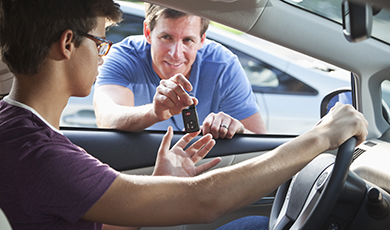 Congratulations — your child just got his/her driver's license and you are no longer their chauffeur. Before your teen hops into the car for the first time without you, be sure to talk to them about the new responsibility they have just acquired. There can be a lot to go over so we've listed the following tips for you to keep in mind:
Drive sober
According to the National Highway Traffic Safety Administration, in 2012 22% of young drivers involved in fatal accidents were under the influence.1 Studies have also found drivers are less likely to wear their seat belts while they are driving under the influence. Although the legal drinking age is 21, it's never too early to have this conversation with your new drivers about the importance of driving sober.
Watch your speed!
Speeding is one of the main causes of accidents among young drivers, in fact the National Highway Traffic Safety Administration reported that in 2013 speeding was a factor for 29 percent of fatal teen driving accidents. Studies have also found that half of fatal crashes involving 16 year old drivers with more than three passengers were speeding related.2 The best way to avoid adding to these statistics is to slow down.
"Click it or Ticket"
While your child may argue with you that wearing a seat belt isn't "cool," did they know that 55 percent of 15 - 19 year olds killed in passenger vehicle crashes weren't wearing seatbelts in 2013?3 Not only is it against the law to not wear a seat belt, taking those couple extra seconds could save their life.
Distracted Driving
Distracted driving is the cause of many accidents and can be easily avoided. When you are driving, make that your priority. Do not eat, use your phone or adjust the radio while you are driving. Make sure to adjust your mirrors, seat, temperature and volume before you hit the road. Put your bags and belongings in a secure area that won't shift while you travel, like your trunk or back seat. No matter how well we think we can multitask, it can wait until you are parked.
Turn off your phone
Put your phone away while you are driving so you aren't distracted while on the road. Many studies have shown that using a phone while driving is just as dangerous as drunk driving, even when using a hands free device. If you have to use your phone, make sure you pull over to a safe location to take your call.
Don't text and drive
Research on texting has found that texting causes a loss of focus on the road for five seconds, on average. Of deadly crashes among 15 to 19 year olds behind the wheel, 21 percent were identified as using cell phones.4 Remember that red lights are for stopping, not for texting. Put your phone away until you arrive at your destination.
More isn't always better
While your teen may be excited they can drive their friends around without you, they may not be aware of the distraction additional passengers can be. It's been found that teens driving with a passenger drive more aggressively. It has been found that driving without an adult passenger increases the risk of 16 to 17 year old drivers being killed in a car accident by 44 percent with one passenger under the age of 21, 88 percent with two passengers and 132 percent with more than three.5
Wake up!
No one should ever drive when they are sleepy – especially new drivers. Driving while drowsy is just as dangerous as driving drunk.7 According to the Huffington Post, one in five accidents are caused by drowsy driving. Remind your child they can ask for a ride late at night to avoid driving sleepy.
Take Care of Your Car
A well maintained car is a safe car. Be sure your teen's car is never driven with the gas light on so they can always get to their final destination. Make sure they also know how to check the air in their tires by themselves. Don't forget to tell them where a nearby mechanic you trust is so they can take their car in for routine oil changes and brake checks.
Encompass Auto Insurance Gilbert, AZ
Source: © 2016 AIC | All Rights Reserved

Call 480.219.8522 for Encompass Auto Insurance Gilbert, AZ